Midlands
Broadmarsh Re-development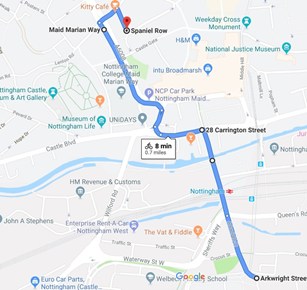 Service 19 to Nottingham will divert from Arkwright Street via Carrington Street (Railway Station stop), then non stop via Canal Street, Greyfriar Gate, Maid Marian Way and Friar Lane into Spaniel Row, which is the temporary terminus for the service.
From Nottingham, the service will start at Spaniel Row and then operate non stop via St Nicholas Street, Castle Gate, Maid Marian Way, Collin Street, Middle Way and Canal Street to Carrington Street (Railway station stop), then Arkwright Street, as per normal route.
For passengers travelling in to Nottingham, the 19 will stop at S5 (first stop you reach at the Station) & for passengers travelling from Nottingham, 19 will pick up at S4 (last stop outside the Station).
Affected Services:
19

19
Until further notice