You may have noticed tap off readers have been fitted near the doors of our buses in Leicester.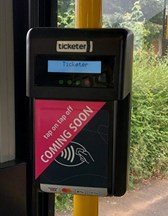 Tap on tap off tickets on our services within the Leicester Flexi zone is now live!

Simply tap your contactless card or device on the ticket machine when you board the bus and then tap off on the card reader by the door as you alight the vehicle.  You will then be charged the relevant fare for the journey made. 
If you travel more frequently, your total fare will be automatically capped to the best value ticket available, up to and including the Week ticket.  Therefore, you will be charged up to the Day, 3Day and Weekly cap, which ever is the best value; so whether you travel a little or a lot, you will always get the best price!     
For more information, please visit our tap on tap off Q&A page.