Hospital Hopper

The Hospital Hopper service connects Leicester's Hospitals: Leicester General Hospital, Royal Infirmary and Glenfield Hospital operating 7 days a week. As of Monday 27th June, the Hospital Hopper will be Part of the greenlines electric network with links to Meynell's Gorse and Enderby Park & Ride at St Nicholas Circle.
The service runs every 30 minutes Monday to Friday, with an hourly service on Saturday and hourly peak only service on Sundays and Bank Holidays. In addition to the three main hospital sites, the service also serves key shopping hubs at Beaumont Leys and Hamilton, as well as serving St Nicholas Circle and the Railway Station, both of which are a short walking distance to the City Centre. 
The service will be re-numbered to Hospital Hopper and will show HH as the service number on the bus, instead of UHL. 
Fare Information
Adult Single £2.40
Adult Day £3.60 (Peak and Off-Peak)
Child Single £1.70 (Under 16s)
Under 5's travel for Free
Flexi Tickets and Passes are issued and accepted on the service. 
Tap on Tap off is available, with a maximum fare cap of £5 for a day and £19.50 for a week when travelling on services in the Leicester Flexi area. If you only travel on the Hospital Hopper service, your fare will be capped at the £3.60 Adult Day Fares. Child tickets cannot be issued with Tap on Tap off. 
Contactless payment is available, if paying by cash please provide the exact fares where possible. If the driver does not have sufficient changes, you will be issued with a Change Voucher for the amount owed. 
Free travel after 09:30 Monday to Friday and all day on Weekends and Bank Holidays for English National Concessionary Travel (ENTCS Senior and Disabled) Pass Holders. Leicester City ENTCS Disabled Pass Holders can travel for free at all times & Leicester City ENCTS Senior Pass Holders can travel for half fare before 09:30am. 
Free travel for University Hospitals of Leicester NHS Trust staff on production of their UHL NHS ID badge. 
Features of the new service:
Fully electric buses for cleaner, healthier air quality, helping us to move towards a net zero City.
USB charging points so you can charge your phone and laptop whilst on the move.
Passenger information displays to keep you better informed and improve accessibility.
Next stop audio-visual announcements helping to make travel more accessible.
New bus shelters so you can wait for your bus with ease.
Real-time information displays to help you plan your journey better.
Text-to-speech facilities at bus stops to make travel more accessible.
Express red route on London Road to help reliability on the service.
New bus lane on Groby Road to help reliability coming soon.
Tap on Tap off best fare capping contactless, easy to use and no fuss travel.
Please note... The Hospital Hopper service is a limited stop service, a copy of the route map with the stops served are shown below: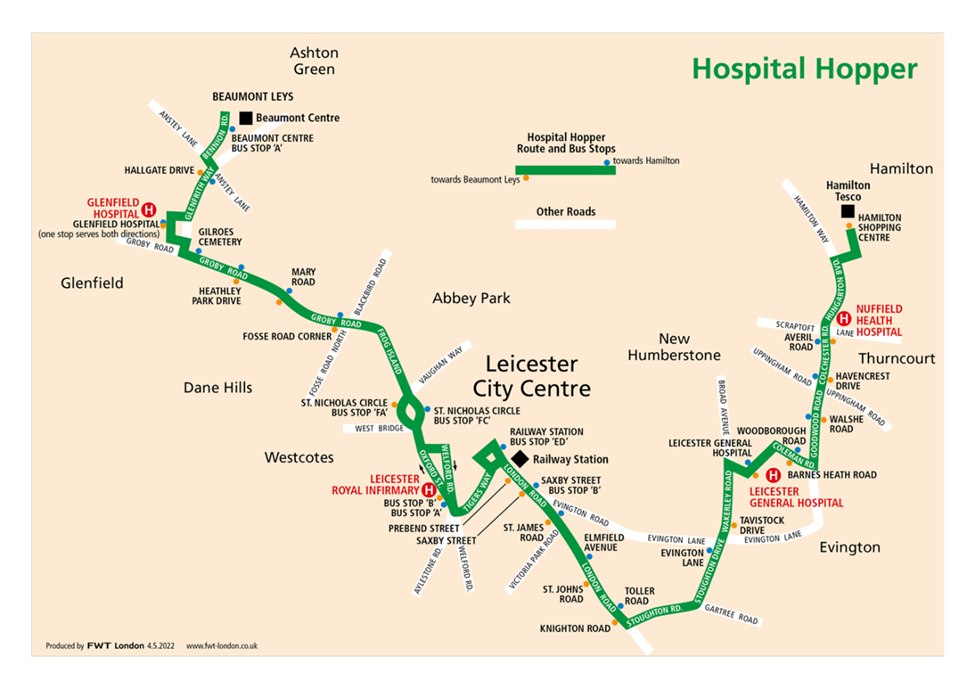 For more information on the Greenlines Electric Network please go to https://www.leicesterbuses.co.uk/hh-hospital-hopper or you can see Leicester Buses Big Bus Plan here https://www.leicesterbuses.co.uk/the-big-bus-plan