Centrebus Fare Revision
From Monday 7th November, we will be making changes to our fares in Leicestershire, Lincolnshire and Rutland. 
Single Fares will increase between 10-20p.
Return, Week and Month point to point prices will increase in line with the revised Single Fare.  
Grantham and Melton Mowbray Zonal ticket prices are as followed: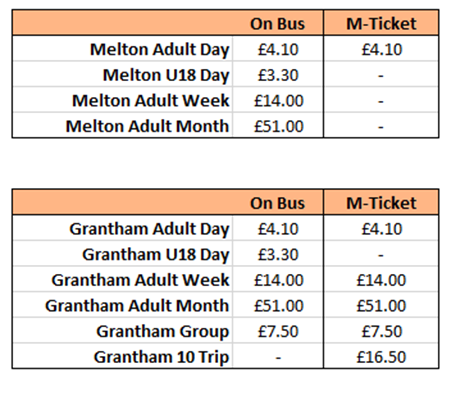 On Bus fare capping is as followed.
Grantham Capping Revised Price
U18 Single £1.30
U18 Day £3.30

Melton Capping Revised Price
U18 Single £1.40
U18 Return £2.70
U18 Day £3.30

Cross Boundary Capping Revised Price
Adult Day Return Cap £7.60
Month Cap £89.00
These zonal products are valid on Centrebus services only, and within the below zones. 
Melton Mowbray Zonal Map can be found here
Grantham Zonal Map can be found here