London Road, Leicester Railway Station
To allow for improvement work and a new cycle lane along London Road, work will start on the bus stops at the Railway Station from 7th January 2019.
Phase 3 of these works, from 15th February 2019, has all the bus stops for the station being relocated.
North-bound passengers, towards Leicester City Centre, will have to cross over London Road and catch
services from the stop located near to Costa Coffee on London Road.  This is also the closest alighting stop for the Railway Station, the next stop will be next to Kwik-fit in Charles Street.
South-bound passengers towards Goodwood, Evington and the General Hospital will need to move to a new bus stop located outside the Tesco Express next to Conduit Street.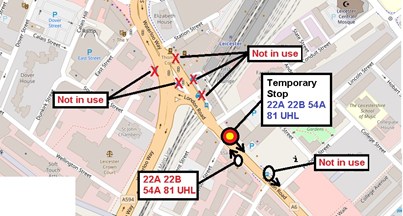 Affected Services:
From 22nd January